So, you're planning an October wedding and you want to include some type of support for breast cancer, since it is awareness month. Well, its much easier than you think. There are so many ways you can incorporate your support for breast cancer awareness into your weddings. Below, we have listed 5 ways you can show your support.
Are you a NON- traditional person, do you like to stand out?  What about wearing a pink wedding gown.  Pink is the NEW white, its sold, but makes a bold statement and it can still be beautiful and elegant.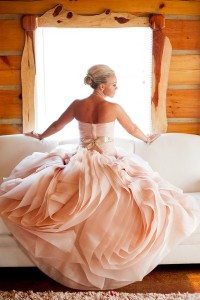 Found on Bridalguide.com
2. Maybe you're a couple who already has everything you need and want.  Or maybe you just prefer not to accept gifts and for people to just come and have fun with you on your special day.  Either way, many people enjoy giving a gift.  So, why not allow them to give to a breast cancer foundation or sponsor a race of our choice? That way you don't have to accept a gift, the guests are still able to "give" a gift and a woman, somewhere out there can benefit from your wedding.

Found on Susan G Komen Race for the Cure
3. How about during your wedding "week" of festivities… one of those days you plan to sponsor a race and invite all your friends and family to join you.  You can even have t shirts made specially for your wedding party with their names, etc on the back.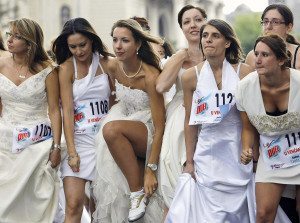 Found on NY Daily News
4. If you have chosen an October wedding then , you may have already thought of using pink as your wedding color.  Well why not? Pink can be a very bold color but it can also be an accent color.  It tends to compliment most colors like, purple, navy, grey, black, brown, gold, silver, white… we can go on forever.  Just choose the right pink for you, whether its  a bold pink like MAGENTA or a soft pink like PALE PINK. There are so many options.  And then you can throw in the pink ribbon in different places throughout the wedding.  That way you show your support both financially and physically.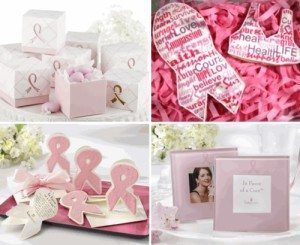 Found on Project Wedding
5. If your are planning to do a "money dance" or "Dollar dance".. announce in your wedding invitations as well as have the DJ reiterate before the dance, that all monies collected during this dance, will be donated to: a donation company of your choice, again whether for an upcoming race that you would like to sponsor, a charity or medical institute that is raising money to help find a cure. Either one you chose, you would be doing your part in allowing your wedding to support the many women who are struggling to fight back this early aged-quick-and deadly-KILLER we call cancer.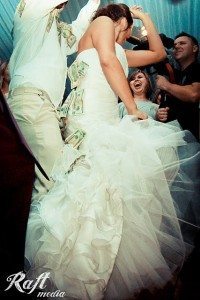 Found on Raft Media
No matter what you choose to do to show your support for breast cancer awareness month.  The fact that you are even remotely thinking of allowing your wedding to play a part in such a BIG movement within the female community, you are winning.  And in doing just that, you are definitely showing your support for the cause.
Thanks for reading
-K.Porche