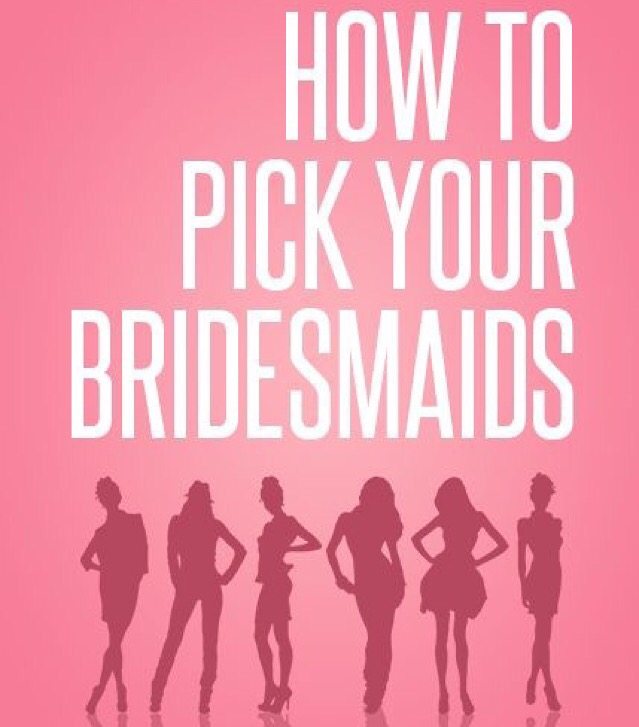 Well a wedding can't be a true wedding without bridesmaids. Whether you decide to have 2 or 10, they're the ladies who are going to make sure you have an awesome bridal shower and a bachelorette party you, may or may not remember. The relationship between the bride and bridesmaids can be a little tricky at times, which is why its important to be careful in your selection. Generally, a bridesmaid must devote a lot of time and energy into this process along with you, the bride. This too becomes a job for them. However, we have determined 10 of the biggest questions about bridesmaids. How many do you need? Who should be one? Who you can ask to do things before the wedding? Take a look at the questions and answers we have below.
1. Q. Who should I ask to be my bridesmaid?
Your wedding party should be made up of people who play an important role in your life: your sister, your old college roommate, etc. The party can be as big or as small as you like, remember it's your big day… Who do you want to deal with?
2. Q. When should I ask bridesmaids to be in my wedding?
First you need to determine the desired size of your wedding and wedding party. And then once you have a date set, start asking your bridesmaids so they can block out the date.
3. Q. Do I have to ask my future sister in law to be a bridesmaid?
This really depends on the type of wedding you're having. While it's a nice gesture to include her, wedding etiquette states that you're not obligated. If you're having a small wedding party — just a maid of honor and a best man, then you definitely don't have to. Most people don't mind not being in the wedding party. It's one less thing they have to worry about.
4. Q. I have two best friends – how do I choose my maid of honor?
You don't have to! If you have two close friends or two sisters; they can both me maids/matrons of honor.
5. Q. My bridesmaids are driving me crazy? Seeing as how you were close friends before the wedding, its safe to assume you will be after the wedding as well. So, now you should specifically determine whats making you crazy about them… is it specific requests that aren't being met? And remember that sometimes little things, like telling them not to get you a wedding gift or easing up on the MUA/ Hair requirement, goes a long way.
6. Q. What can I ask my bridesmaids to do?
There's lots that they can help you do that is completely acceptable: assisting with putting favors together, assisting with putting centerpieces together, folding programs, assisting with making welcome bags, pay for their own bridesmaids dress, plan/ coordinate a bridal shower/ bachelorette party, attend the rehearsal dinner and activities, run minor, last minute errand to the craft store for missing supplies. Oh, and let' not forget, hold your dress while you pee, because someone has to do it.
7. Q. My husband has more groomsmen than I have bridesmaids, what should I do?
The wedding party should be made up of your nearest and dearest — even if that is an uneven number. Don't worry if there are more on one side than the other. You can sort out how to get everyone up and down the aisle at the rehearsal.
8. Q. I think one of bridesmaids may not be able to afford the dress, etc.
No matter how well you think you know someone, never assume you know anything about their finances, no matter their lifestyle.
Once you have determined and selected your bridal party, send an e-mail outlining the projected costs. ($200 for the dress, $50 for hair the day of, etc.) People appreciate understanding costs ahead of time. If they don't think they can afford it, they will let you know.
9. Q. Can I ask one of my bridesmaids to lose weight before the wedding?
Honestly? No. There is never a polite way to ask/ tell someone to lose weight for your special day. However, you could do things like join a gym or bootcamp specifically for this wedding planning process and simply inform all of the ladies it would help you stay on goal if they joined you. Also, remember, when you're asking someone to be in your wedding party, you're asking them the way they are.
10. Q. I was in my friend's wedding years ago; does she have to be in mine?
There is no set standards when it comes to weddings. You don't even have to invite someone to your wedding just because you went to theirs. Just remember, its your wedding, you can do anything you want, however you want.
Happy Planning!!! Don't forget to check out our "6 Wedding planning Secrets"!
K.Porche