Do you know when Wedding Season is?
When the stars align and every moment is full of perfection… is that wedding season? It sound good, but not quite what is meant by "wedding season". This is typically a time of year when weddings are most popular. We all know that the first thing we do, after saying "yes" to the man of your dreams, is choose a date. It's important to make your selection wisely. As well as know what times of the year your wedding may cost more or less. Here is the U.S., wedding season is high in June, and July again in September, around Valentines day as well as between Christmas and New Years Eve.
Popular Wedding Seasons Don't Always Match Up
If you are deciding to get married during the holiday season, you certainly won't be starting a trend, because holiday weddings have been known to be upbeat and festive. Many couples however, want the idea of celebrating their wedding anniversary to be unique and not because it happened to also be on New Year's eve. Depending on what aspects of your wedding are important, you'll need to keep an open mind to a few dates because popular times might mean your photographer of choice might be out of tow, on vacation, etc. during this time.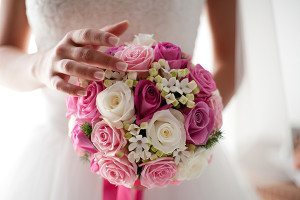 How Does Wedding Season Effect Popular Events?
Research indicates that the most popular wedding month is June, with the weather in the USA being all but perfect – not to hot and not too cold. June is followed by October, with this period promising newly weds warm, sunny weather. Even though these months are highly popular, you can't just plan their dates willy nilly – not if they want to make sure that most of their guests will be in attendance.
There are plenty of events happening in these particular months, and you need to make sure that there aren't popular activities, events, holidays, etc. happening that threaten to pull all your guests away.  Or if it happens to be during wedding season, remember what your guests may be doing at that time.
May to September the UKs Dream Wedding Season
In the UK, Spring and summer which falls roughly between May to September is regarded as wedding season. A dream honeymoon destination, if also in the UK, will promise to guarantee more favorable weather. Couples simply relish the idea of a perfect English Summer wedding on a Saturday where guests can mill around on lawns, on balmy evenings where temperatures are ideal, between 17C to 20C. July and August in the UK are considered a bit risky for a wedding as these months are looked upon as being too hot.
Benefits to Off-Season Weddings
Did you know that there are benefits to choosing a date outside of wedding season? Wherever you are in the world there are Winter- and Summer months, with Winter months being less popular for weddings obviously because of the cold. And because there's less demand during winter, you'll likely to get offered promotional off peak pricing on everything. With a tight budget for most people in the 21st century, these Wintry months might well be slowly gaining in popularity in terms of being able to plan and affordable and unique wedding.
Thanks for reading and HAPPY PLANNING!