Whether you're planning a wedding or sweet 16, if you're on a budget, you need various ways to save money and stay within or under your budget; like cute but CHEAP wedding favors.  Being budget conscious can be difficult at times, but if you stay connected with us here at Porche Weddings, we promise to keep you happy and successful with maintaining that budget.  We have a few simple and quick, not to mention CHEAP wedding Favor Ideas that will cost you less than $1 per favor.
Why Do We Give Wedding Favors?
Passing out wedding favors at weddings is an age-old tradition which has tremendously evolved throughout the years.  Nowadays, brides and grooms are becoming more creative and choosing to make the favors more personal and unique.  With favors, there are no specific rules, but here are a few tips: (1) If you feel your budget doesn't allow for wedding favors or they just aren't a major concern, don't worry… they aren't mandatory. (2) Cost?  You don't have to break the bank to give wedding favors, create a budget for the favors and stay within it. (3) Children? Favors are generally for adults, but then again so are weddings, however, if you allow children, it's ok to incorporate something for them, maybe the candy station with take home bags for the children. And the most important thing is to plan ahead… especially if you are on a budget… if you wait too late, it can be hard to stay cheap.
Wedding Favors | 5 Ideas Under $1
Here is a list of some wedding favors, we here at Porche Weddings find to be inexpensive, unique and cute.
1. Mason Jars ($0.70/ jar)- These can be decorated all types of ways, etched, painted to match your theme, wrapped with ribbon, etc.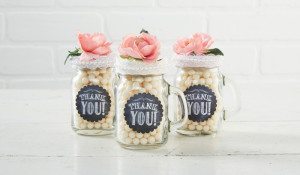 2. Smore's (less than $0.50 pp)- Who doesn't like sweet treats.  Smore's can be a SWEET way to say thank you.  You can get inexpensive craft bags from most craft stores but the best price may be Dollar Tree.
3. Candles ($0.80/ jar)- You can buy jars in bulk online or reuse baby food jars if you know anyone that has a baby, it would be cheapest if they start saving those jars for you. Find a video on candle making, which is very simple and you can infuse your choice of scents.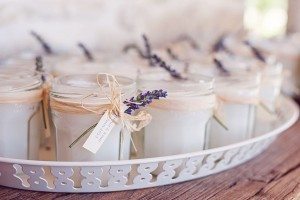 4. Spice Jar ($0.90/ jar)- You can get mini spice jars from specialtybottle.com and CHEAP spices from Walmart or The Dollar Tree, add a label and ribbon, you're done!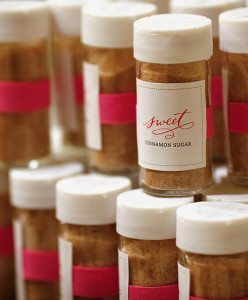 5. Hot Chocolate ($0.75 pp)- A favorite past time for many during the cold and winter seasons.  Planning a fall or winter wedding?  This would be a great way to say thank you. And you can be unique by adding different spices to create cute and personal flavors.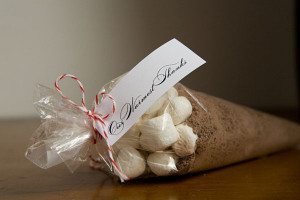 Wedding Favors | Other Unique Ideas
There are so many creative ways to be unique and make personal, intimate wedding favors.  There are also many ways to stay within your budget.  Start search the internet for wedding favor ideas, find a few you like and see how much support you have from your bridesmaids, family and friends… than plan a girls night, where you can all get together, provide drinks and snacks all while working together to get the wedding favors put together.
Want more tips & tricks? Sign Up for our Newsletter!