The Best Wedding Dress For Your Body Type
Weddings are stressful enough, as you've no doubt realized by now if you have come to this page. What is arguably the most important and nerve wracking part of the experience? Choosing your wedding dress of course!
An Hour Well Spent
Now you have probably accumulated a wish list or at least a good idea of the type of dream wedding dress that you are hoping to wear for the happiest day of your life. But the problem is that most bridal shops will only allow you an hour maximum booking in their shop, since they are so busy and don't wish to spend all day with one client. Of course it's true that an hour is long enough to try on quite a few dresses, but the more prepared you are before entering the shop, the quicker and less hassle it will be. So, it is important to do your research ahead of time, find a wedding dress you really like, find something that will fit your body type and personality.
Fit To Your Body Type
A painless way to immediately narrow down your list of potential dresses is to only choose a silhouette that is going to compliment your greatest assets while at the same time concealing those assets of yours that perhaps you aren't particularly keen on. To begin with, look at the five feature body types you belong to. Are you petite, plus size, busty, hourglass, or lean and straight? Now of course you may fit into more than one of these categories, most women do, and it is perfectly possible for you to find a wedding dress that will highlight your best features, whether you fit into one, two or more of these body types. Know your body type roughly before entering the shop, and time will be more on your side. Be sure to bring in pictures you pulled from magazines or saved to your phone.  But don't be surprised if the dress you really like, turns out to be "not" for you.
Other Ideas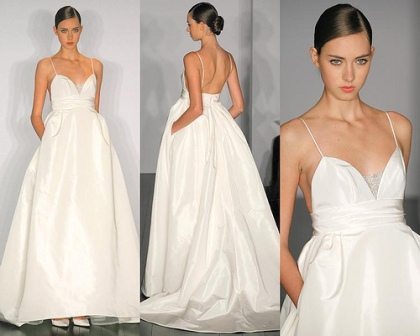 Once you've decided on the type of dress you will need to compliment your body, there are a few other things you could do to ensure that your wedding dress shopping goes relatively stress free. Trust the consultant, even if they suggest something that you instantly aren't convinced by. They are professional and have a good idea what they're doing. Also, make sure you bring the right people with you! Mothers are always a good idea since they are kind yet honest, but a negative friend who will put a bad spin on every dress you try on might do best to stay at home. Do you want one final tip before we finish up? Try and do your hair and makeup before you head to the fitting, ideally similar to what you think your style will be on the big day. It will be much easier to see yourself in the dress a few months down the line; it kind of give you a full affect.  You don't want to have on this gorgeous wedding dress, with drab hair, pale skin and cracked lips.  
This is something you can have your wedding planner assist you with as well. So, contact us now at 404-482-2826 to find out how we can help you pick the right dress for your special day!
HAPPY PLANNING!